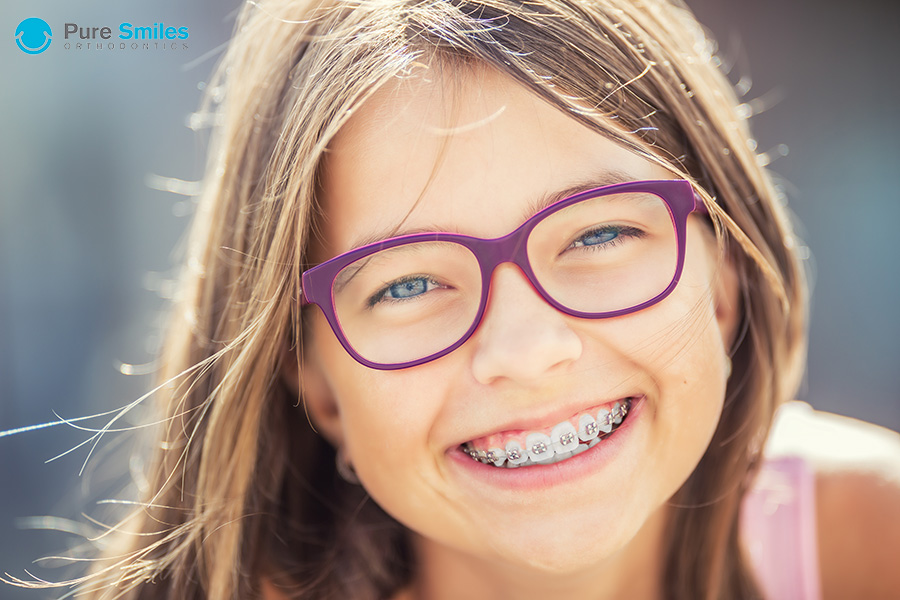 17 Jun

Types of Braces Explained

Austin, TX – If you've been avoiding orthodontic treatment because you don't like the idea of metal braces, there is good news – today, there are more options to choose from than just your standard metal brackets. Pure Smiles Orthodontics explains the different types of orthodontic braces available today.
Metal braces – Traditional metal brackets are still around for a very good reason – they are effective, and cost efficient. These braces consist of a metal bracket that is affixed to teeth, and then a metal wire that is affixed to the brackets to place the pressure on the teeth. Today's metal braces aren't like those of the past, however. They are sleeker and less noticeable than ever before, and they can move teeth more effectively and efficiently.
Ceramic/clear braces – For those who like the efficiency of metal braces, but don't like the look, ceramic braces are an option. Their brackets are made of a ceramic that will blend in better with the teeth, making them less noticeable than their metal counterparts. Some orthodontists are even able to use wires that are tooth colored, allowing the braces to blend in easily with your smile. They are slightly more expensive than traditional braces, but can often be more efficient at moving teeth than some other options.
Lingual braces – These braces are traditional metal braces, but with an interesting twist that makes them virtually invisible. The brackets and wires are affixed to the tongue side of the teeth, so no one can see them. They blend the efficiency of metal braces with a higher aesthetic quality associated with options like Invisalign. Lingual braces won't be appropriate for every patient, and can often take longer and cost more than more traditional options.
Self-ligating braces – Self-ligating braces utilize a bracket and wire system, but the brackets use a clip or door to hold the wire, rather than the traditional elastic. These place less friction on the teeth and require fewer trips to the orthodontist during the course of treatment.
Invisalign – Invisalign is touted as the nearly invisible option because of the clear plastic aligners that are used to straighten the teeth. The treatment uses a series of aligners to gently guide the teeth to their new locations, changing them out approximately every two weeks. They are removable, which means you can brush and floss with ease and avoid making any changes to your diet. Aligners should be worn a minimum of 22 hours a day. Invisalign is a great option for patients with more moderate orthodontic issues.
There are many different options for straightening teeth today, and each one has positives and negatives. At Pure Smiles Orthodontics, we want every patient to understand the options available to them, and the reasons we may recommend a certain treatment option over another. It is important to remember that orthodontic treatment doesn't have a one size fits all solution, so what may have worked for one person might not be ideal for you. We will discuss all of the options we believe may work for you, and provide all of the information you need to make the best decision for you.