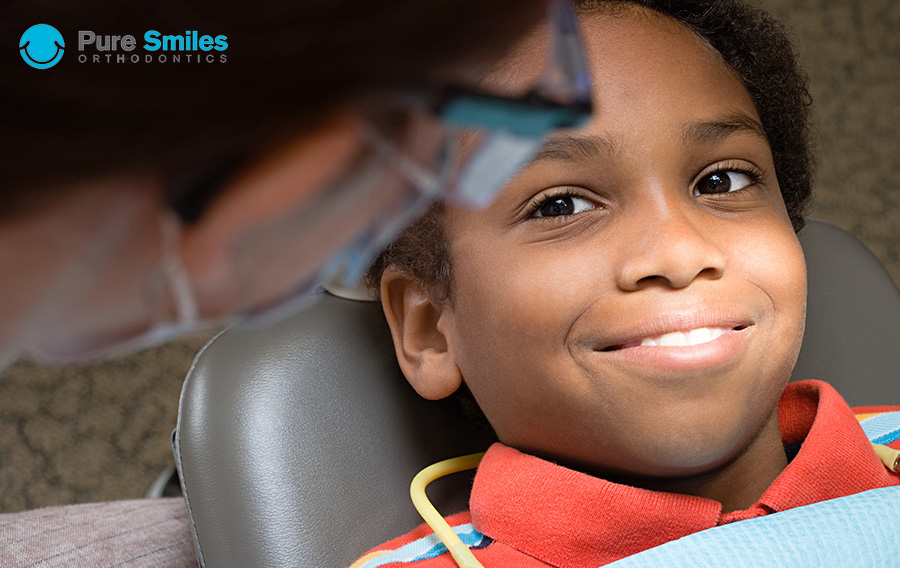 10 Apr

Will My Child's Dentist Tell Us When to See an Orthodontist?

Austin, TX – The health of your child's smile is important – just as you take your child for regular check-ups with a pediatrician, you should also be taking your child for regular check-ups with a dentist. By beginning a relationship with a dentist at the age of one, you can help set your child up for a lifetime of good oral care. But how will you know when it is time to visit an orthodontist?

Many pediatric dentists have working relationships with local orthodontist to help ensure the health of your child's smile. When your child is nearing the age of seven, your dentist should recommend visiting an orthodontist to be sure your child's smile is taking shape exactly as it should be. The roles of dentist and orthodontist can support each other: A straighter smile with proper room for all the teeth to comfortably fit in the jaw will be easier to care for, and likewise, you'll require a healthy smile free of decay or gum disease before undergoing orthodontic treatment.

While your dentist will have the more knowledge surrounding your child's overall oral health, a trained orthodontist can help identify if there are any underlying issues that need to be addressed through orthodontic treatment. Orthodontists have the specialized knowledge to spot discrepancies in jaw growth that could benefit from early treatment, as well as any issues with how the permanent teeth may be erupting that might require some sort of intervention.

Your dentist plays a very important role in the health of your child's smile. But, if your dentist has not recommended visiting an orthodontist by the time your child turns seven, the age recommended by the American Association of Orthodontists, you should ask for a recommendation to a local orthodontist or seek one out on your own.

No referral is needed from a local dentist in order to see an orthodontist, so you can do your own research and visit the orthodontist of your choice. While the age of seven may seem a bit young to visit an orthodontist, it is actually an ideal age because your child should have a mix of baby and permanent teeth. And, if there are discrepancies in how the jaw is growing, it will allow adequate time to make adjusts before the jaw stops growing.

Don't be afraid to talk to your dentist about orthodontic treatment. He or she may have recommendations for orthodontists in your area who offer excellent results. Working with both a dentist and orthodontist can set your child up for a healthy smile for life.